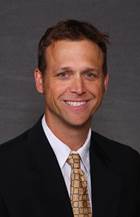 Scott Moe
Gustavus Golf Coach
A 1995 graduate of Gustavus and an Elk River, Minnesota native, Scott currently is in his 25th year as the Gustavus men's golf coach and 15th year as the women's golf coach. In 2004, Gustavus won it's first ever NCAA National Championship on the men's side, and Moe was honored as GCAA National Coach of the Year. That year he was also selected to and coached the U.S. World Junior Team to a victory in Japan. Moe has directed the Gusties to seven MIAC Titles, been named MIAC Coach of the Year seven times and named GCAA Regional Coach of the Year five times.
The women's team had their highest NCAA finishes in 2006, 2010 and 2011, finishing second nationally those years. Moe has been honored as MIAC Coach of the Year, Minnesota Women's Coach of the Year, Central Region Coach of the Year, and in 2008 and 2010 was named WGCA National Coach of the Year for his efforts with the women's team.
In addition to Coach Moe, campers will be accompanied and taught by members of the
Gustavus
Adolphus College teams, who will be serving as camp counselors throughout the week.